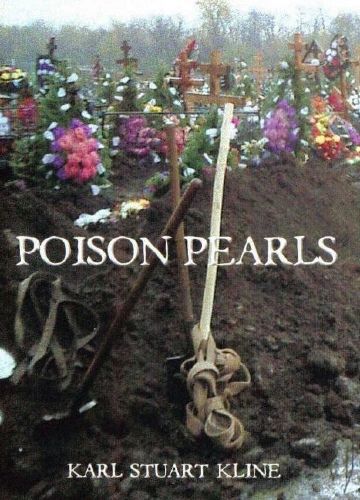 The cover of this book has its' own special story.
What you see is the Russian trench grave where my mother in law was buried only a year and a half ago.
These are all fresh graves, which is why you see such a profusion of fresh flowers.
Counterpoint to their beauty is the harsh reality of the grave digger's tools and standing up in stark contrast is the hand hewn replacement for a broken handle.
To me that hand hewn handle is symbolic of the poverty that has taken over Eastern Europe and left the unfortunate citizens to become the victims of ruthless criminals.
Many of those victims are young women who are tricked or forced into slavery and lose their lives to the traffickers in human flesh.  This cover is also symbolic of the only future that many of them have to look forward to.
Yes, the theme of Poison Pearls is Human Trafficking and despite the fact that it is a book of poetry, most book sellers have classified it with Social Science, Criminology and Women's Studies.
7/19/05 Note...  www.Amazon.co.uk has categorized Poison Pearls under Society, Politics & Philosophy. 
It can also be ordered directly from the publisher at a discounted price by going directly to www.publishamerica.com/books/4092